About Us

GTAwater has been marketing top-quality water softeners and drinking water purification systems in the Greater Toronto Area for over 11 years. We specialize in office and residential installations, and also ship across North America. You will be extremely pleased with our quality products at affordable prices!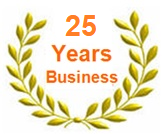 At GTAwater, we are committed to giving you honest, professional and friendly advice. Customers are happy to have chosen GTAwater to provide a complete solution for their household or commercial need.

info@GTAwater.com
416-618-3532 (GTA)
1-888-322-3589 (Canada)
1-888-988-1393 (USA)

Write to:
GTAwater Corp
MIP STN
P.O. Box 3093
Markham, ON, Canada
L3R 6G4



SALE ENDING May 23, BUY NOW!